Below is the Report Card of my own investments. I am mentioning the sector I invested in, the company within that sector, the price at which I bought shares, when i bought them and how that compares with the BSE Sensex performance.
 Report Card on 29-Feb-2012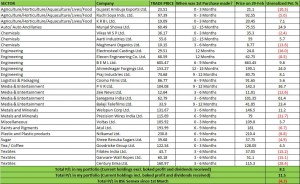 Report Card on 30-Sep-2011
Notes:
I began investing in Nov 2010 where in my approach was based on the principles of valuation that I learnt in my MBA days.
Since then, I have refined my approach on the basis of learning from mistakes I have made. The two major refinements are:

Don't commit too much upfront: One is not a good judge of Margin of Safety when one begins investing. I try to identify an inherently good company first, and then invest a little in it. Psychologically, the company then remains in my radar and so I become a better judge of value there on.
Concentrate on business you understand: I have obviously got better results in one industry as compared to others. So it is better to find a good company in an industry one understands, as compared to anything else.